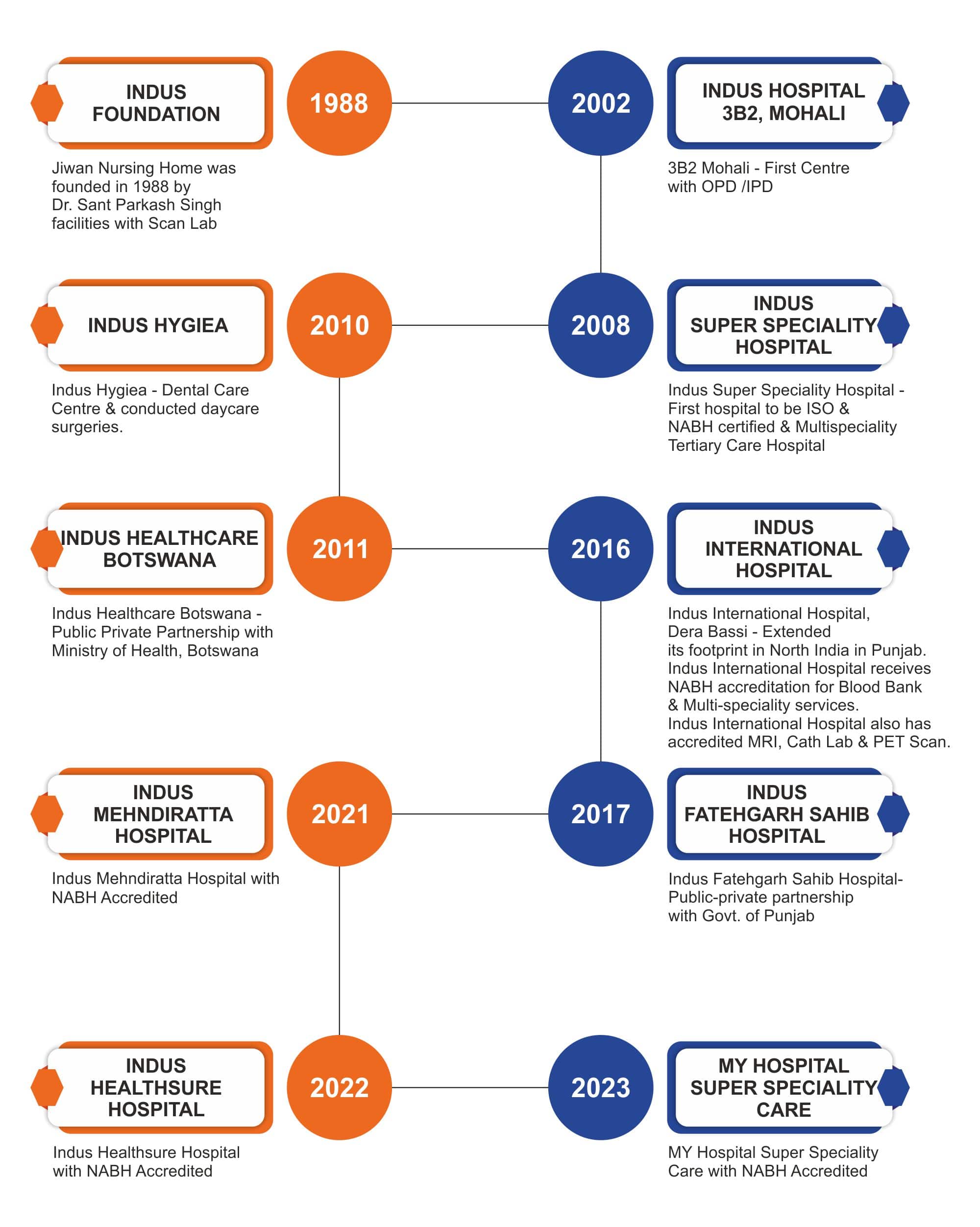 Indus Hospital
Indus Hospital's journey began with a humble opening in 1988 in Jalalabad, Firozpur. Further in 2002 Indus Hospital a Multispeciality hospital along with Diagnostic Lab was established in Mohali, District with the vision of "To be the destination of choice for healthcare and the mission of to provide competent, comprehensive, cost-effective, and environment-friendly medical care to all". Today we have stand in three states of North India Punjab, Haryana, and Himachal Pradesh with 8 Hospitals, collection centers and diagnostic centers.
Our healthcare offerings are supported by a team of compassionate and dedicated medical professionals who have rich knowledge and experience in their respective domains. Indus Hospital has been designed and constructed using the most advanced medical technology. The infrastructure of the hospital and quiet environment is conducive to faster recovery, health and well-being.
The Indus team continuously works to improve the quality of care, systems and the service we provide. Indus Hospital medical facilities provide a wide array of medical services such as General Surgery, Paediatrics, Obstetrics & Gynaecology, Orthopaedics, Internal Medicine etc. These are supported by a comprehensive list of ancillary services that include an Intensive Care Unit, Neonatal Care Unit, Physiotherapy, Laboratory, Pharmacy and Imaging.
Salient Feature
The hospital has a robust Quality Management System and has been assessed and found to comply with NABH and NABL accreditation.
Round–the–clock available services like an emergency, Laboratory, Blood Bank, pharmacy etc.
The Department of Transplant medicine offers transplantation services as kidney transplant.
Upcoming BMT facility (Bone marrow transplant)
Well-equipped operation theaters
Collecting sample from home is also available.
Legacy
Indus hospital was founded in 1988, has grown into a leading chain of healthcare institution of North India. We proudly announce to be the largest Chain of Hospitals in Punjab. The humble roots from a small hospital in Jalalabad, Punjab by started under the leadership of Late Dr. Kavita Sant MBBS,DGO(Gynaecology &Obstetrics) and Dr S.P Singh, MBBS, MS(General Surgery) with a vision to provide affordable treatment to the people living in the remote area of Punjab. By name JIWAN NURSING HOME, our first Rural Hospital, the couple still fondly remembered and respected as pillar of healthcare and also for bringing smiles to the families of the area.
The 7 Promises of Indus Hospital
Providing advanced and proactive tertiary care services.
Offering excellent clinical services.
To provide best diagnostic services and facilities.
Keeping ourselves updated with new researches.
Keeping healthcare and ethical principles on similar lines.
Ensuring the best dignity of the medical profession.
Following a patient-centric approach.