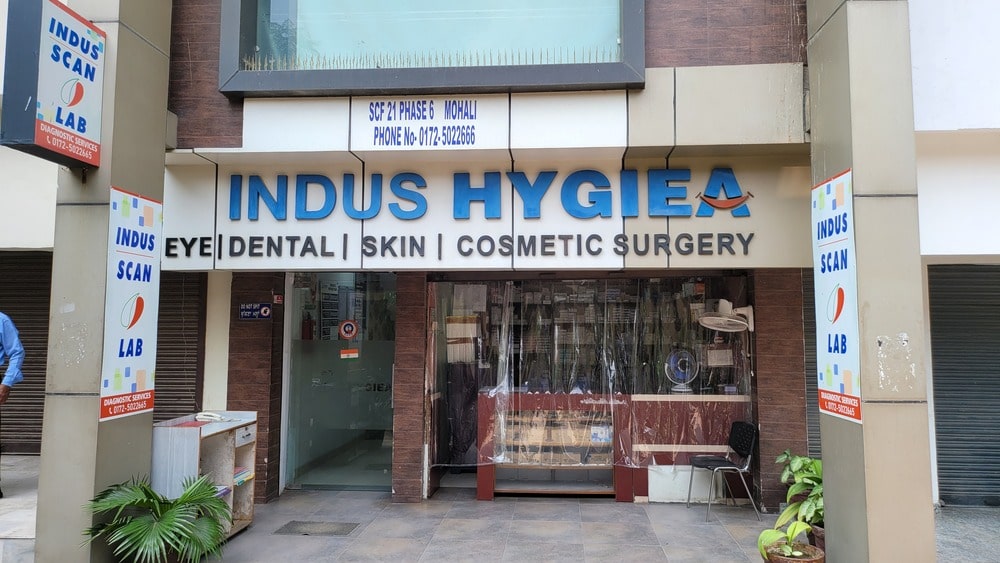 Indus Hygiea Hospital, Mohali
Leading Dental Hospital in Mohali
Indus Hygiea is a NABH Accredited hospital a part of the Indus Healthcare network comprising seven Hospitals and growing. This Hospital came into being in the year 2010 as a result of a vision to provide quality service to the community at an affordable cost for the patients from TRICITY and the neighboring areas. Indus Hygiea is a daycare center that is equipped with state-of-the-art equipment and technology and sets the highest thresholds for hygiene, clinical safety, transparency, ethics, and customer service.
The safety of the patient is at the centre of all our processes, for instance, the Indus Hygiea Four-Step Protocol guarantees that each instrument and surface that comes in contact with patients are thoroughly sterilized before the next patient's consult. Indus Hygiea has also initiated Data Quality Management (DQM), an administration type that incorporates the role establishment and deployment, policies, responsibilities, and processes in terms of data acquisition, maintenance, disposition, and distribution.
Services provided in Indus Hygiea
Comprehensive dental services are provided by a qualified professional from various fields of Dentistry including Oral and Maxillofacial Surgery, Orthodontics & Dentofacial Orthopedics, Conservative Dentistry and Endodontics, Periodontology, Prosthodontics and implantology along with General Dentistry. Indus Hygiea is a one-stop solution for all your dental problems.
Extractions:

At Indus Hygiea the best dental clinic in Mohali we undertake all kinds of extractions from simple extractions to difficult impacted molar extractions. The team at Hygiea compromises oral maxillofacial surgeons who specialize in difficult extractions working with other specialists and general dentists and it is a team approach that allows us to provide the best dental services. We aspire for the best patient outcomes for our patients and that is why special emphasis is laid on sterilization protocols and infection control.

Root Canal Treatment:

Indus Hygiea provides the best root canal treatment in Mohali under the guidance of a qualified Endodontist, the team at Indus Hygiea apart from doing Routine Root canal treatment also performs single sitting RCTs where the patient treatment is complete in a single sitting as compared to conventional 2-3 sitting which is required in RCT. Indus Hygiea also does Re-RCTs and tooth salvage procedures.

Orthodontics Braces and Aligners:

Indus Hygiea provides the best orthodontic services in Mohali. Our Experienced and qualified orthodontists ensure that they provide you with the best options available to correct your smile. At Indus Hygiea, each patient is treated individually and the best treatment option is offered to them ranging from Metal braces, Ceramic braces, and Lingual braces to top-of-the-range aligners depending on the patient's aesthetic preferences and clinical condition all at affordable costs.

Dental Crowns and Bridges:

Indus Hygiea also does Dental crowns and Bridges as a long-term method of replacing missing or partially damaged teeth. We partner with state of art Dental Lab which allows us to deliver Crowns and Bridges which are customized to you. The crowns available range from basic metal crowns, PFMs (Porcelain Fused Metal Crowns) to high-end Ceramic Crowns ( Zirconia).

Gum Care:

Problems like Gingival Enlargement, Gingivitis, Gingival De- pigmentation, and Periodontitis are corrected and procedures like Flap surgeries with bone grafting, Crown lengthening, Gingivectomies, Ridge correction surgeries, Alveloplasties, Frenectomies, etc are performed under the supervision of a Periodontist who is specialized in these kinds of procedures.

Dental Implantology:

At Indus Hygiea, we provide state-of-the-art dental implantology services including whole-mouth rehabilitation. Our qualified team of dental implantology believes in the use of the latest implants and aseptic precautions to prevent implant failure and maximize clinical success. Patient selection and use of the correct implant are stressed.

Complete and Partial Dentures

: We offer a wide range of products and give choice to our patients to choose customized comfortable dentures which are not just aesthetic but also functional. We take special care in ensuring proper fitment, alignment, and comfort. We also provide denture repair services.

Teeth Whitening -

Your smile is of paramount importance to the professionals at Indus Hygiea. Often, the difference between a good smile and a great smile is the whiteness of the teeth. Typical lifestyle choices as well as the aging process stain and darken your teeth. Things you do regularly such as drinking coffee, tea, cola, and red wine or smoking can contribute to staining your teeth. Routine Scaling and Polishing not only ensures a brighter smile but also ensures oral hygiene and is a good preventive measure to ensure oral health. Where the stains are more permanent new bleaching and whitening agents can remove these stains without harming your teeth. Ensure a million-dollar smile.

Smile correction and full moth rehabilitation:

Sometimes due to poor oral hygiene, trauma, disease, or congenital defects patients need smile correction or a combination of treatments including Veneers, orthodontics, and implants to correct their smile. Our qualified team uses a comprehensive care approach to provide you with dental solutions from various fields of dentistry to bring the smile back to your face.

Routine General Dental Checkup:

Our team is proficient in delivering expert consultations related to a healthy lifestyle, maintenance of oral hygiene, proper oral habits, and emphasizing the importance of regular dental screening.

Oral and Maxillofacial Surgery

-Oral and Maxillofacial Surgery dedicated department engaged in managing and treating defects and injuries of the face, jaws, head, and neck along with the hard and soft tissues of the oral and maxillofacial region. At Indus Hygiea, the team experts help diagnose, treat and cure a broad range of conditions that may arise in the oral and maxillofacial region. Our team of experts is highly experienced in handling any road traffic accident cases involving maxillofacial surgeries. The team also helps in educating patients about the benefits of oral hygiene and fixing problems related to the mouth cavity, teeth and face.

Other services:

such as night guard orthosis, and splinting are also available
Why Choose us?
We at Indus Hygiea aim to deliver the best dental care experience that you will ever have. We combine the latest, most sophisticated computerized, digital, and laser technology with a progressive approach to ensure the best possible dental experience for our patients.

We strongly believe in the philosophy, 'Prevention is better than cure, hence we encourage our patients toward preventive & conservative procedures. We can see dental problems before they even begin to take shape.

Patient confidentiality is of paramount importance here at Indus Hygiea and it is central to the relationship of trust between us and our patients. We use the latest treatment techniques, procedures & dental materials that enable us to deliver a wide range of options to suit your needs.

We use a wide variety of cosmetic dentistry options and treatments. Our emergency services include sudden toothache, maxillofacial or fracture, dental infection, facial infections, facial pain, and more. We are always there when you need us the most.

Our comprehensive team approach ensures that you don't have to go from pillar to post and that you get the best possible professional dental advice under one roof.
For any Query Contact
Dental Services are available from 9:00 AM to 8:00 PM (Monday to Saturday)
Mr. Shashwat Sood(Unit Head)
Mobile No. - 9712974533
Email Id - unitheadhygiea@indushealthcare.in
Ms. Meenakshi Saroop(HR Manager)
Mobile No. - +91-99882-35426
Email Id - hrish@indushospitals.com