Vascular Surgery
Vascular Surgery is a surgical specialty that deals with disorders of the blood vessels namely arteries, veins, and lymphatics. This commonly sees an ulcer in the skin especially in the legs or claves areas if venous related. Varicose veins being the most common disorder.
Our department addresses various forms of vascular problems treated by a vascular surgeon and vascular interventionist, who offer the best modalities of therapy, be it surgery or endovascular therapy.
We cater to patients with arterial and venous pathologies of the body, other than heart and brain, also called peripheral vascular diseases. These involve common conditions like arterial blockages resulting in gangrene of limbs/toes, strokes, deep venous thrombosis, renal vascular hypertension, aneurysms, etc. Diagnosis of PVD is helped by peripheral and handheld bedside doppler machine, state of the art cath labs which also are used for Angiography + DSA and interventional vascular procedure like angioplasty, stents and stent-graft insertion, thrombolysis, suction thrombectomy, and embolisation. Majority of the patients with PVD need surgical correction.
Surgeries like peripheral bypass, embolectomies, carotid endarterectomies for prevention of strokes, etc. are routinely performed. The department has performed 300 surgeries in the last three years. Postoperative course of these patients is monitored in ICU/recovery which is equipped with monitors, ventilators and well-trained nurses and anaesthetists.
A vascular surgeon clinically evaluates a patient basis their medical history and a physical examination. The surgeon also evaluates non-operative measures such as drug therapy and risk factor management. To diagnose if vascular surgery procedures are required, the
Before the surgery, the patient is screened, and a thorough evaluation is done. Patients possessing a high risk must take oral beta-blockers a couple of weeks before the surgery to reduce the possibility of a heart attack.
Why Choose Us?
A well experienced team trained in best centers in India and abroad is there to take care of the patients The team has been able to successfully perform many complex procedures and give promising results.
Common procedures performed are:-
The Vascular Surgery:
Diabetic foot surgeries

Carotid endarterectomy – Surgery for Stroke Prevention

Bypass Surgery for Leg Arteries (fem-pop, fem-fem, fem distal)

Management for gangrene of limbs to prevent amputation

Surgery for Aortic Aneurysm / Aortic occlusion (open aortic repair/Aorto-femoral bypass)

Vascular control for bleeding vessels.

Vascular malformation excision

AV access surgeries (brachiocephalic, brachio basilic fistula with transposition, and AV grafts)
Endovascular Surgery:
Endovascular aneurysm repair for Thoracic Abdominal Aortic Aneurysm (EVAR/TEVAR)

Radiofrequency Ablation of varicose veins

Injection treatment (sclerotherapy) for Varicose Veins

Carotid/Renal/ Subclavian angiography and angioplasty with stenting

Peripheral angiography with balloon angioplasty and stenting of arm or leg arteries

Aorta and Visceral artery angioplasty

Venous angiography with IVC filters placement and angioplasty of stenotic veins.

Management of Deep Vein Thrombosis (including placement of IVC filters/stents and catheter-directed thrombolysis)

Covered Stent Grafts for Trauma, Arterio-Venous Fistulae, and Aneurysms

Chemo port and PICC line insertion

Permcath insertion

The team ensures to treat all patients with quality care by using advanced techniques to help them recover faster.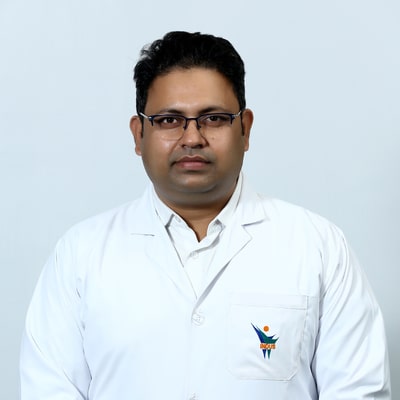 Dr. Vishal
(MBBS,MS)
Dr. Vishal Attri is working as a Consultant General Surgeon at INDUS INTERNATIONAL HOSPITAL, Derabassi(MOHALI).
Book An Appointment