The Department of Pulmonary Medicine is a tertiary referral center for pulmonary diseases. Pulmonary, critical care and sleep medicine specialists at Indus hospital are experts in solving all complex medical challenges faced by people with conditions that affect the lungs.
Comprehensive pulmonary medicine programs include specialized treatment of diseases such as asthma, chronic obstructive pulmonary diseases, sleep-disordered breathing, interstitial lung diseases, cystic fibrosis, occupational lung diseases, pulmonary rehabilitation, tuberculosis, lung cancers, and pleural pathologies. The pulmonary Medicine team at Indus collaborates with experts in nearly every specialty to provide patients with the best possible care.
Why Choose us?
The Pulmonology department at Indus Hospitals uses the latest technology to provide effective care in an out-patient or in-patient setting which also includes intensive care and lung transplant. We have the latest state-of-the-art facilities for Imaging diagnostics, and a Bronchoscopy unit by highly experienced and qualified doctors The expert team of pulmonologists is highly specialized in complex surgical and medical procedures and is experienced in treating patients of all ages with utmost care and complete satisfaction of the individual.
Treatment
With a strong commitment to innovation, Indus hospitals bring to its patients, access to advanced treatment:
Pneumonia
Tuberculosis
Bronchial Asthma
Chronic Obstructive Pulmonary Disease (COPD)
Acute Respiratory Distress Syndrome (ARDS)
Pulmonary Hypertension (PH)
Sleep Disorders
Pulmonary Fibrosis
Lung Cancer
Interstitial Lung Diseases
Biopsies
Bronchoscopy
Bronchial Thermoplasty
Lung Transplant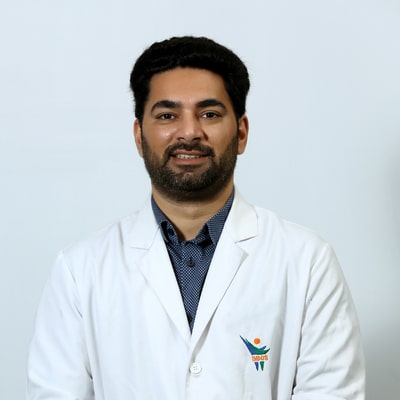 Dr Kanwaljit
(MBBS,MD)
Dr. Kanwaljit Singh has an extensive experience and has been a specialist in Pulmonology for 2 years. Within this time he has earned repute and has expertized in Critical care, Sleep Medicine, and Bronchoscopy Professional qualifications 2009 M.B.B.S from Government Medical College, Patiala 2019 MD Pulmonology from GGSMCH, Faridkot Expertise • Critical care medicine • Sleep Medicine • Bronchoscopy • Pulmonary Infectious Diseases- Pneumonia, Tuberculosis, etc. • COPD, Asthma, ILD, Allergic Disorders
Book An Appointment